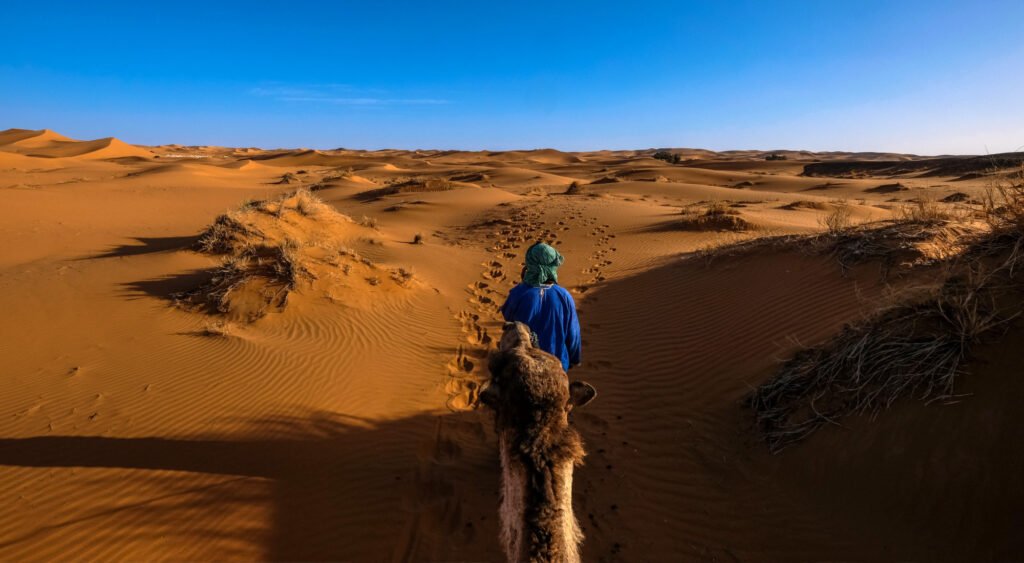 Book your stay:
Plan your unforgettable getaway in the heart of the Zagora oasis by booking your stay at the Tinsouline Hotel now. Enjoy a warm welcome and personalized service for a relaxed and enjoyable vacation.
Bivouacs & Desert
✔ Caïdal or nomadic tents for restaurant service with carpets, benches, stools, low tables, Moroccan tableware...
✔ Nomad tents for 6 to 8 people for sleeping with complete bedding: wooden bed, carpets, foam mattresses, sheets, blankets, pillows...
✔ Individual tents for 2 people scattered around the camp (upon request)
✔ Buffet meals with a variety of salads and barbecue-grilled dishes (meat skewers, kebabs, chicken), seasonal fruits, tea... (upon request) or traditional menu: salad, tagine, fruit, and tea.
"If the weather is bad or upon recommendation: Classic table service with a special menu."
✔ Bar with a variety of alcoholic and non-alcoholic beverages (upon request).
✔ Sanitary facilities: Toilets and shower modules with hot water.
✔ Evening entertainment: local folklore, bread-making, henna tattooing, tea ceremony, bonfires, fire letters, torches, oil lamps (upon request)... See the layout plan of tents for group camping.
✔ Option: Possibility of entertainment with camel racing, treasure hunt, traditional wedding simulation...